10 Fun Things To Do In and Around Resorts World Las Vegas
Whether it's your first time in Las Vegas or you're a seasoned traveler who has indulged many times, Vegas is full of fun things to do for everyone. The Las Vegas Strip is packed with world-class resorts, restaurants, spas, and stunning outdoor pools you can enjoy with your friends and family when in town.
If you're staying at Resorts World or one of the hotels near Resorts World Las Vegas, you're in luck. Some of the best Vegas activities and sought-after experiences are just minutes away from your room!
Join us for dinner at Aqua Seafood & Caviar Restaurant for the best seafood on the Las Vegas Strip! Make a reservation online now.
What is Resorts World Las Vegas?
Resorts World Las Vegas is the newest addition to The Las Vegas Strip. It is the first integrated resort, combining the Crockfords, Conrad, and Las Vegas Hilton in one luxury destination. Guests book their room at the resort they want to stay in and have access to the high-end amenities and activities offered at Resorts World.
Parking is free at Resorts World for guests, while visitors can get free parking if they sign up for the loyalty program. Otherwise, you can pay a flat rate to park in the Resorts World lot while you explore everything the area has to offer.
Check out the top things to do in and around Resorts World Las Vegas:
1. Enjoy a relaxing spa experience
The spas in Las Vegas are second to none, with relaxing treatments and exclusive packages you won't find at your typical spa. Nurture your mind and rejuvenate your body with a soothing facial, massage, hydrotherapy, reflexology, or body scrub. You can also spend time detoxing in the sauna, steam room, or hot tub between your treatments.
For the best massage in Vegas, the Awana Spa at Resorts World offers 10 unique full-body massages to relieve tension and target tired muscles, including the Himalayan Salt Stone massage, Balinese Waves massage, and Eastern Vibrations massage. The Spa at Wynn and Canyon Ranch Spa at Palazzo are also excellent choices on the north end of the Strip.
2. Catch a Vegas residency show
With such a rich history of musical acts like Elvis Presley, The Rat Pack, Wayne Newton, and Liberace, it makes sense that major artists flock to Sin City to put on their best shows. Las Vegas is home to some of the biggest headliners in the music industry, so you can always catch a performance by one of your favorite artists.
The Resorts World Theater has an impressive lineup of residencies on the books, such as:
Katy Perry
Carrie Underwood
Luke Bryan
You can also see artists like Bruno Mars, Adele, Usher, Barry Manilow, Keith Urban, Maroon 5, Miranda Lambert, Santana, and more in Las Vegas on select dates throughout the year.
3. Explore Famous Foods Street Eats
One of the most popular destinations inside Resorts World is Famous Foods Street Eats — an energetic indoor marketplace with 16 eclectic food stalls serving up Michelin-star meals that are surprisingly affordable. Sample the different street food dishes inspired by cuisines from around the world for the absolute best lunch in Las Vegas.
4. Check out a Las Vegas speakeasy
If you want a more classic or "vintage" Las Vegas cocktail experience, there are a few bars in and around Resorts World that are just what you're looking for. Here Kitty Kitty Vice Den is an elegant speakeasy bar tucked away inside Famous Foods Street Eats. If you can spot it, don't miss the opportunity to sample some of its Prohibition-era drinks!
Some other speakeasy-style bars near Resorts World include:
Ghost Donkey at The Cosmopolitan
The Underground Speakeasy & Distillery at The Mob Museum
The Laundry Room at Commonwealth
The Lock Speakeasy at Horseshoe Las Vegas
The Count Room at The Flamingo
5. Experience The Resort World Las Vegas pool
While Las Vegas is well-known for gaming and nightclubs, Las Vegas pools have easily become one of the biggest draws for many visitors. The beautiful pools at Resorts World on the Las Vegas Strip offer comfortable lounge chairs, day beds, private cabanas, drink service, and cool, sparkling water to give you relief from the desert heat.
The pools at the Crockfords, Conrad, and Las Vegas Hilton at Resorts World include:
The Main Pool
The Family Pool
Athena Infinity Ultra Pool (adults only)
Bimini Pool
Cabana Pool
Some resorts also host epic pool parties complete with live DJs and performances, a lively crowd on the dancefloor, and bottle service. Whether you want to party or enjoy a relaxing afternoon by the pool, Resorts World is the place to be.
6. Try decadent caviar dishes by a Michelin-starred chef
Offering the freshest seafood in Las Vegas, and prepared by Chef Shaun Hergatt's passionate culinary team, you can sample exclusive caviar selections at Aqua Seafood & Caviar Restaurant in Resorts World. The intimate and elegant setting creates the perfect atmosphere to enjoy signature dishes and pairings that will leave seafood lovers wanting more.
While the menu changes based on seasonal availability, some types of caviar you can try include:
Kaluga
Golden Kaluga
Special reserve Kaluga
Osetra
Golden Osetra
Golden Osetra special reserve
You can also order the Flight of Caviar to sample the favorites with potato espuma and chives. All other orders of caviar are served with homemade blinis, creme fraiche, and chives. Also, Aqua Seafood & Caviar Restaurant has a full menu of appetizers, salads, entrees, and seasonal seafood dishes that complete the dining experience.
Aqua Seafood & Caviar Restaurant is the place to indulge in true decadence. View our full menu here.
7. Find a new Las Vegas restaurant
As the newest luxury resort on the Las Vegas Strip, Resorts World features some of the best dining options in the city. From casual dining to high-end culinary experiences, you're sure to find your new favorite restaurant at Resort World.
Some Resorts World restaurants to check out are:
Brezza – If you're in the mood for Italian cuisine, Brezza is a stunning establishment with an impressive menu that features fresh ingredients and elevated takes on Italian classics.
Carversteak – Get the most satisfying cuts of dry-aged American beef and Japanese-certified wagyu steaks paired with mouthwatering sides at Carversteak.
Kusa Nori – This Japanese Bistro will satisfy all your cravings, from sushi to teppanyaki-style dishes.
Genting Palace – Highlighting a glamorous "old-world" vibe and decor, every item on the Genting Palace menu honors authentic Chinese flavors and traditions.
Wally's – If you enjoy wine and exclusive spirits, Wally's combines the intimacy of a wine bar with the charm of a gourmet marketplace and restaurant.
7. Enjoy family-friendly activities at Circus Circus
If you happen to be traveling with your family, Circus Circus on the north end of The Strip has everything your kids could want in a vacation. You can visit the Adventuredome for thrill rides, check out The Midway for arcade and carnival games, and view exciting circus acts for free.
8. Visit the observation deck at The STRAT
The best view in Las Vegas is arguably at The STRAT's SkyPod, which is located on the top floor of the hotel about 800 feet above the Strip. At that height, you can take in the Southern Nevada skyline from downtown Las Vegas to the south end of The Strip and beyond.
9. Experience an immersive art exhibit
Transfix inside Resorts World is a stunning display of over 50 interactive artworks that use kinetic energy or touch to illuminate. The four-acre creative space is filled with breathtaking art that invites curiosity, discovery, and inspiration as you explore the hands-on art experience.
10. Shop The District at Resorts World Las Vegas
The District is a 70,000-square-foot retail space at Resorts World that features high-end and trendy stores that are a shopper's dream. Get everything from clothing to jewelry and cosmetics to accessories at The District.
Book your decadent Las Vegas dinner at Aqua Seafood & Caviar Restaurant!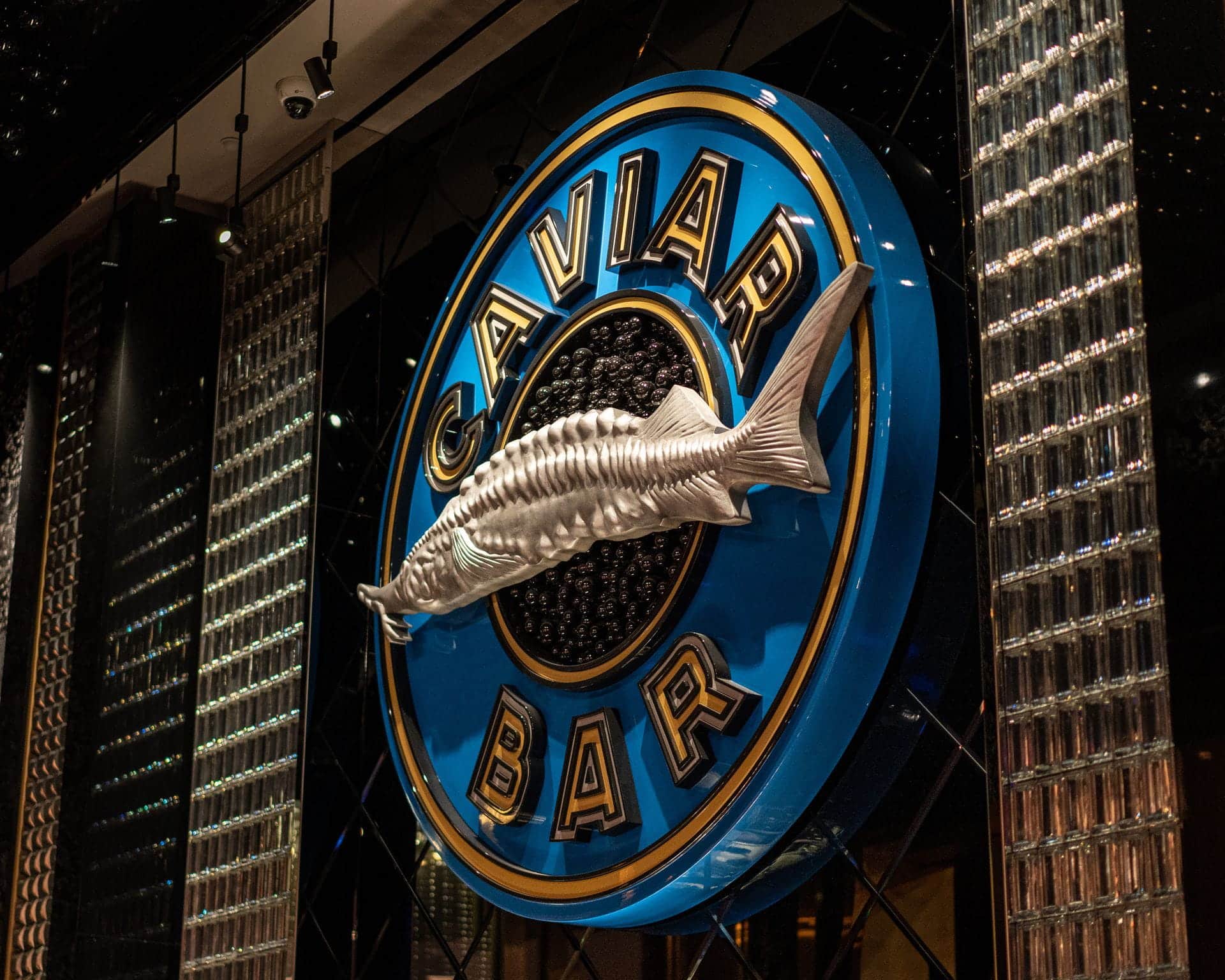 Make your Las Vegas visit special with an elegant seafood dinner at Aqua Seafood & Caviar Restaurant by Michelin-starred chef Shaun Hergatt. Call to make a reservation or book your table online now.