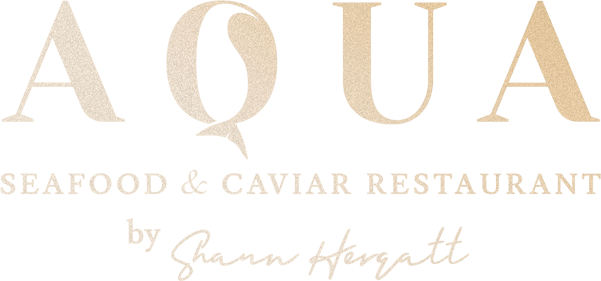 Seafood & More
On The Vegas Strip Seafood & Caviar Restaurant
by Chef Shaun Hergatt
Australian Chef Shaun Hergatt is a Manhattan based classically trained creative modernist. Renowned for his technically precise cooking and painterly presentations, Hergatt is inspired by childhood memories, nature, art and his daily life in New York.
Gourmet Cuisine.
Ambient Atmosphere.
Aqua Seafood & Caviar Restaurant combines elegance with quality cuisine to create an unforgettable experience. From decadent appetizers to fresh salads and signature entrees, we offer a variety of culinary options to satisfy any craving.
Reviews
"I recently went to Aqua Seafood & Caviar Restaurant with my family and we had an amazing time. The food was delicious and the service was great. We booked our reservation online, which was super easy to do. The staff was very friendly and helpful when we arrived, and they made sure everything ran smoothly throughout our entire visit. The atmosphere was very nice, too—not too loud or crowded, which is something I've experienced at some other restaurants in Vegas. I'd definitely go back again!"
Bethany Taylor
5/5 Google Review
Reviews
"Hands down one of the best and hottest spots in Vegas! Can't say enough about this place…everything from the top of the line caviar… to cocktails, staff, and ambiance was incredible ! Would highly recommend for an amazing fine dining experience."
Leona Lutsker
5/5 Google Review
Reviews
"I would like to thank the wonderful chef and his staff for making our 8 people reunion elegant and extremely delicious. The caviar the crudo was so fresh and yummy. Thank you very much. Really recommend this restaurant for everyone."
Angela Optical
5/5 Google Review
Reviews
"I've been to many restaurants in my life, but Aqua Seafood & Caviar Restaurant was one of my favorites. The service was great and the food was even better. I love their crab cakes and the pasta dishes are delicious. The restaurant has a nice ambiance and is very spacious, which makes it easy for groups to dine together. I would highly recommend this restaurant to anyone who wants to have a nice meal with friends or family."
Charlotte Case
5/5 Google Review
Join Us for Dinner
Aqua Seafood & Caviar Restaurant at Resorts World Las Vegas
Located on South Las Vegas Boulevard, Aqua Seafood & Caviar Restaurant offers an intimate setting that's perfect for special occasions. Our goal is to create a memorable dining experience for each of our guests. Our restaurant features a sophisticated atmosphere that's complemented by our sumptuous menu of gourmet dishes and indulgent small plates.