Seafood 101:


7 Different Ways To Eat Lobster

There are more ways to eat lobster than just cracking it open and dipping the fresh, succulent meat in warm, drawn butter. We are Aqua Seafood & Caviar Restaurant, one of the top seafood restaurants in Las Vegas, and we know many things about eating delicious seafood and caviar in a refined dining atmosphere. We made this list for lobster lovers everywhere wanting more ideas on how to eat lobster.
What is the best way to eat lobster?
Fresh is best. There's a reason why lobsters are left alive before consuming them for food. It's to preserve the best texture of the seafood without causing harmful bacteria to escape. Chefs worldwide discovered that this method of using freshly killed lobster produces a much sweeter taste to the flesh and keeps the meat from becoming mushy. If you have never eaten lobster before, we have a guide, How To Eat Lobster For The First Time, to give you some helpful tips.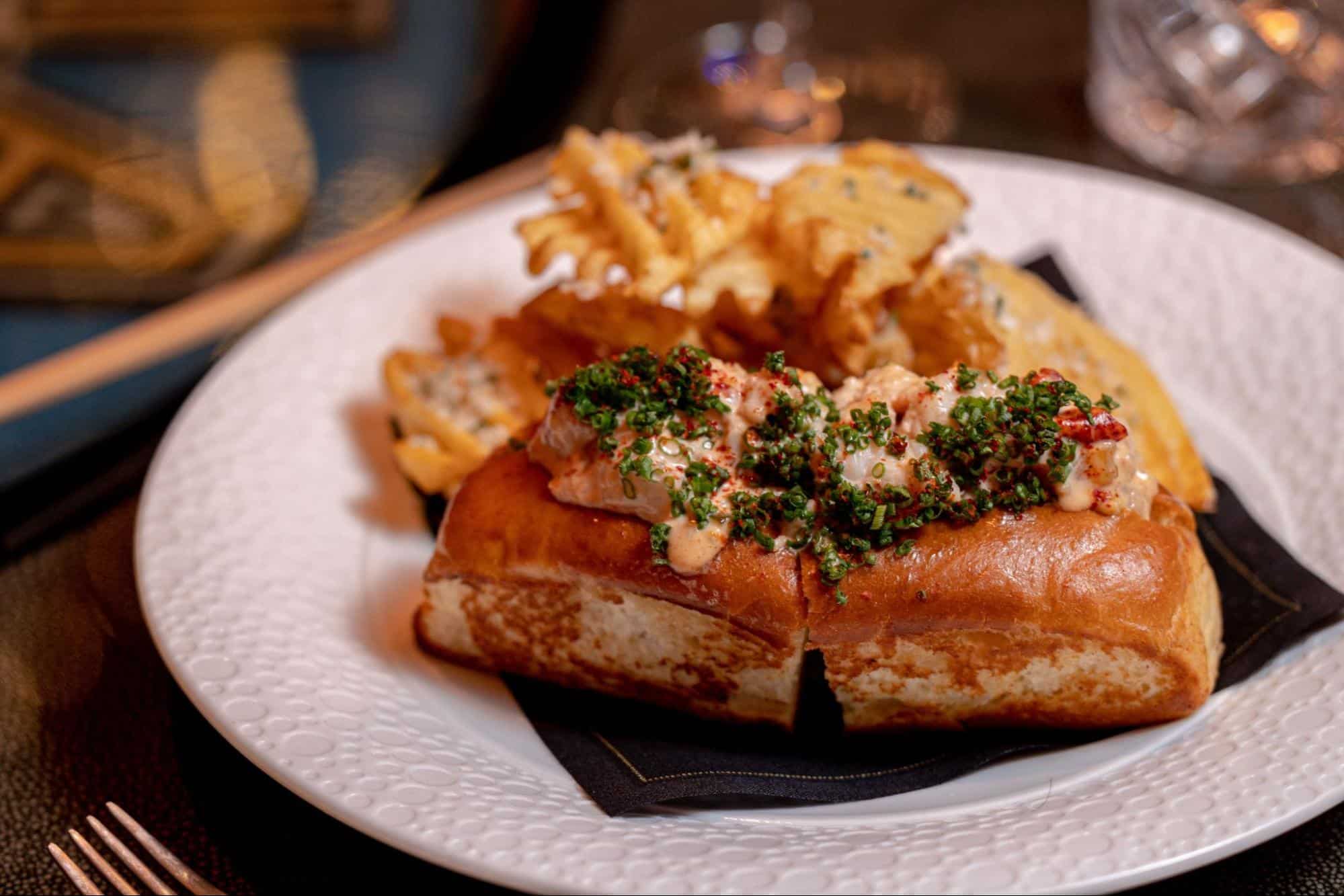 We'd love to have you come join us for dinner anytime you are in Vegas.
How many ways can you eat lobster?
The recipes are endless in the different ways you can eat lobster, making it hard to pick the best lobster dish. Plus, it's good to know how many different types of lobster there are and ways to cook lobster so you can become a true connoisseur. From soups to sandwiches, breakfast to dinner, and appetizers to the main course, we have a few ideas we think you'll enjoy.
The most popular lobster recipe is the classic lobster roll, of which there are two varieties, the Maine and Connecticut. The difference between a Maine and Connecticut lobster roll is that the Maine recipe uses chilled lobster, and the Connecticut recipe uses hot lobster. Both use a hoagie bun. At Aqua Seafood & Caviar Restaurant, we make our lobster roll on a Brioche bun with Espelette pepper. It's so delicious!
Here are some of the best ways to eat lobster:
1.Lobster appetizers
Start your evening with a lobster appetizer to whet your appetite. These mouth-watering pre-starters can be great on their own for a light meal too! Most of these recipes can be made in less than one hour if you have some pre-cooked lobster on hand.
Lobster nachos
Lobster poutine
Lobster deviled eggs
Lobster rangoon
Lobster bruschetta
2. Lobster for breakfast
Who says breakfast is only about eggs and bacon? Try these ideas using lobster:
Scrambled eggs with pieces of delectable lobster
Spice up a frittata with juicy lobster
Sprinkle shredded lobster on avocado toast
3. Lobster lunch ideas
Add lobster to these classic favorites for a new twist full of exciting flavor.
Lobster BLTs: Add lobster meat mixed with a bit of shrimp to this classic sandwich.
Lobster burgers: Replace the hamburger with lobster and add your favorite melted cheese on a fresh bun with lettuce, tomato, and aioli sauce.
Lobster grilled cheese: Instead of plain American cheese, use fontina or white cheddar cheese garnished with a touch of parsley and red pepper flakes.
Lobster roll sliders: These mini bites are perfect for lunch or dinner.
4. Lobster dinner ideas
A grilled lobster tail is always great for a luscious dinner meal. Just look at some of the ways you can use lobster tails for dinner and even a sweet dessert.
Grilled lobster tails with sriracha butter
Lobster bisque pot pies
Lobster beignets: Yes, please! It's a dessert made with sweet mascarpone cheese.
Spicy tomato broiled lobster
Lobster tacos with green onion cilantro sauce
Lobster and spinach pizza with bacon and fontina
5. Lobster salads
Since lobster is high in protein and low in fat, it makes an excellent choice for a dieter. Some great salad ideas are:
Lobster cobb salad
Lobster and potato salad
Lobster caesar salad
Wheat berry and lobster salad
6. Lobster soups
Lobster can be finely chopped up or pureed to add to a soup base. These are two favorites:
Lobster bisque
Corn and lobster french onion chowder
7. Pasta goes well with lobster
Lobster mac and cheese is a great recipe because of its versatility in what types of cheese and pasta you can use. Melted gruyere cheese goes great with lobster, as do the various types of pasta, from spaghetti to angel hair to linguine and more. You can even try using different types of rice to go with lobster. Here are some examples of dishes:
Lobster risotto
Quick lobster scampi with linguini
Creamy tomato and curry butter lobster pasta
Lobster ravioli with tomato cream sauce
Which part of the lobster is not edible?
There are parts of the lobster that some people detest. The tomalley is known as the "green stuff" you see inside a cooked lobster. It's the liver and pancreas that filters out contaminants eaten by lobsters. Therefore, some say it's the part you shouldn't eat because it might be unhealthful. However, others swear that the tomalley's creamy texture and taste is an enjoyable delicacy.
Butter for lobster recipe
There are a variety of butter recipes to put on a freshly cooked lobster tail. It's traditionally known how well drawn butter (also known as clarified butter) goes with lobster. We think these butter for lobster recipes are tempting to try. And you can always experiment with herbs and spices to develop your own butter for lobster. Simply melt butter in a saucepan, add lemon juice and a pinch of salt for a basic butter sauce. You can also add…
Minced garlic
A pinch of cayenne pepper and/or red pepper flakes
Chives, tarragon, or even paprika
Aqua Seafood & Caviar Restaurant has secured its place as one of the premier seafood restaurants in Las Vegas with its refined atmosphere and exceptional menu making the dining experience truly memorable.
We are proud our menu includes a lobster dish featuring lobster sourced from Maine. We also serve other meats such as duck, chicken, and wagyu beef. And of course, all of our recipes are served to perfection as overseen by our award-winning Australian chef, Shaun Hergatt. So the next time you are in Vegas, book a reservation with us and see why we are top in Las Vegas for seafood.
Don't Miss Out on the Best Seafood in Las Vegas!
Cod is a nutritious fish that is high in protein and low in fat. It is a firm fish with a flaky texture and has a mild flavor that is delicate and slightly sweet. Cod is an excellent source of omega-3 fatty acids, which are beneficial for heart health. When buying cod, look for fish with bright eyes, pink gills, and firm flesh. Avoid cod with cloudy eyes, dull coloring, or a strong fishy odor. Fresh cod can be stored in the refrigerator for up to two days. Cooked cod can be frozen for up to six months.
Seafood is one of the most popular types of cuisine, but it can be difficult to know where to start when it comes to choosing a dish. Aqua Seafood & Caviar Restaurant is the perfect spot for seafood lovers of all experience levels. Come join us for dinner and see why we're the best in town!